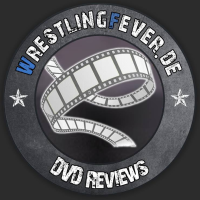 Best of WWE Band 2 – John Cena
Release: 28.05.2010
Regional Code: 2
Laufzeit: 1 Std. 28 Min.
Sprachen: Englisch, Deutsch, Französisch, Spanisch
FSK: 16
Label: SilverVision
Kurzbeschreibung
Band Zwei der Serie "Best of WWE" widmet sich dem mehrmaligen WWE Champion John Cena. Zu sehen sind einige seiner Matches (genau genommen vier) zwischen 2006 und 2007. Cena gehört heutzutage zu den Beliebtesten WWE Superstars aller Zeiten. "If you want some Cena – Come get some!" Hier gibt es für die Fans vom Chaingang Soldier gleich vier große Erfolge des WWE Superstars in Bester Bildqualität.
Menü:
Bevor man zu dem Auswahlmenü kommt, sieht man den "Don`t try this" Spot. Das sehr schlichte Menü bietet zuerst die Auswahl der Sprachen, das Hauptmenü ist mit einem Bild des Wrestlers (Siehe Bild oben) geschmückt und bietet die Auswahlmöglichkeiten: "Abspielen", "Matches" & "Sprachoptionen". Das Menü ist weder animiert, noch ist es mit Musik unterlegt.
Matchpaarungen:
TLC Match um den WWE Champion Titel
John Cena (c) vs. Edge
Falls Zählen Überall Match um den WWE Champion Titel
John Cena (c) vs. The Great Khali
WWE Champion Titel "Challenge"
John Cena vs. Randy Orton vs. M. Foley vs. B. Lashley vs. King Booker
WWE Champion Titel Match
John Cena vs. Randy Orton
Extras & Easter Eggs: KEINE
Fazit:
Mit John Cena hat WWE heute wohl einen der beliebtesten und erfolgreichsten Wrestler aller Zeiten unter Vertrag. Sicherlich gibt es auch zu ihm versch. Meinungen, dennoch gewann er bisher 7x den WWE Titel. Auf dieser DVD sind ausgesuchte Matches zu finden, die sicherlich nicht ALLE unbedingt zu den Besten von John Cena gehören. So hätte man auf das Match gegen the Great Khali verzichten können und ein Match von WWE RAW (Januar 2009 gegen Shawn Michaels) wählen können, welches nicht umsonst viele Lobeshymnen erhielt. Wie dem auch sei, diese DVD bietet 4 erfolgreiche Matches in Bester Bild- und Tonqualität. Für Wrestlingfans ein Produkt, daß man empfehlen kann. Ein absoluter "Low Price" (für unter 10 Euro) und somit auch erschwinglich.