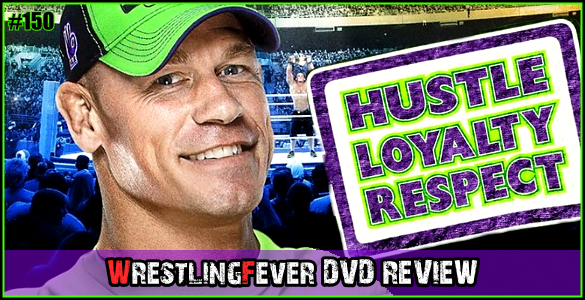 KURZBESCHREIBUNG:
Seit 15 Jahren schon hat John Cena sein Leben dem Traum gewidmet, einer der größten Superstars des Sports-Entertainment zu werden.
Und als ein Superstar, der das Wort "aufgeben" nicht kennt, wurde der 16 malige WWE Champion der Mann, den es zu schlagen gilt. Die Superstars von The New Era reihen sich auf, um seine Fähigkeiten zu prüfen. Jetzt seht ihr John Cena, wie er mit seinen größten Herausforderungen er in den Ring steigt, wie beispielsweise Roman Reigns, Rusev, Seth Rollins, Kevin Owens, AJ Styles, Finn Balor, Shinsuke Nakamura und vielen mehr. So, lehnt Euch zurück und werdet Zeuge von "Hustle, Loyalty, and Respect" von John Cena.
Trailer:

Hier Bestellen!
________________________
DISC 1:
HUSTLE, LOYALTY, RESPECT
United States Championship Match
Rusev vs. John Cena
WrestleMania 31 • 29. März 2015
United States Championship Match
John Cena vs. Stardust
RAW • 06. April 2015
United States Championship Match
John Cena vs. Sami Zayn
RAW • 04. Mai 2015
"I Quit!" Match for the United States Championship
John Cena vs. Rusev
Payback • 17. Mai 2015
United States Championship Match
John Cena vs. Kevin Owens
Battleground • 19. Juli 2015
United States Championship Match
John Cena vs. Seth Rollins
RAW • 27. Juli 2015
United States Championship Match
John Cena vs. Dolph Ziggler
RAW • 12. Oktober 2015
_________________________
DISC 2:
ETCHED IN HISTORY
WWE Championship Match
AJ Styles vs. John Cena
Royal Rumble • 29. Januar 2017
#1 Contender's Match
John Cena vs. Shinsuke Nakamura
SmackDown • 01. August 2017
John Cena vs. Roman Reigns
No Mercy • 24. September 2017
John Cena vs. Elias
RAW • 25. Dezember 2017
Elimination Chamber Qualifying Match
John Cena vs. Finn Bálor
RAW • 29. Januar 2018
No Disqualification Match
John Cena vs. Kane
RAW • 26. März 2018
John Cena vs. Triple H
Greatest Royal Rumble • 27. April 2018
Fatal 4-Way Match Winner Faces Universal Champion
John Cena vs. Finn Bálor vs. Drew McIntyre vs. Baron Corbin
RAW • 14. Januar 2019
_________________________
Technische Daten:
Releasedatum: 31. Mai 2019
Regional Code: 2 & 5
Laufzeit: 5 Stunden 52 Minuten
Discs: 2 (DVD)
Sprachen: Englisch & Deutsch (Doku)
FSK: 16
Label: Freemantle
_________________________
Fazit:
John Cena war nicht für alle Fans die "Cup of Tea" aber sicherlich der loyalste und wohl fleißigste WWE Wrestler in den letzten Jahren. Er stand nicht unverdient bis zuletzt, 15 Jahre, an der Spitze, bevor er sich um einen ruhigeren WWE Terminplan entschied.
2015 wollte es Cena nochmals schaffen, den United States Championship zu gewinnen, um sich danach mit der neuen Ära an Superstars zu messen. Er stellte sich daraufhin vielen Talenten, die dabei waren, sich damals erst Mal einen (WWE) Namen zu machen. Und um genau das geht es auf diesem DVD Set. In einer kurzen Einführung wird das auch so in etwa umschrieben, danach folgen die Matches, die in dieser Review alle gelistet sind. Vor oder nach den Matches gibt es keine Anekdoten oder Statements, es geht direkt in das folgende Match über.
Das es mal einen anderen 16 fachen Champion geben wird, hielt man nach Ric Flair für unmöglich – John Cena hat es geschafft, dies wird nochmals auf DVD 2 im Intro unterstrichen. Danach folgen Matches wie beispielsweise gegen AJ Styles. Alles in allem handelt es sich um eine "Hommage" an John Cena, welche wie ein Rückblick auf die letzten aktiven Jahre auf mich wirkt. Mit Nakamura, Owens, Rollins etc. hat er es hauptsächlich (wie oben erwähnt) mit der "neuen Äre", dem NXT Nachwuchs / Neuverpflichtungen auf dem Weg nach oben zu tun.
Der dreizehnfache WWE Champion (und dreifache World Champion) gilt neben Ric Flair als Rekord Champion. Mit dieser 8ten "Cena DVD" widmet man sich erneut seiner Karriere und hat tolle Matches ausgesucht, welche dieses 2er DVD Set abrunden.
***/*****
Artikel bei Amazon bestellen!