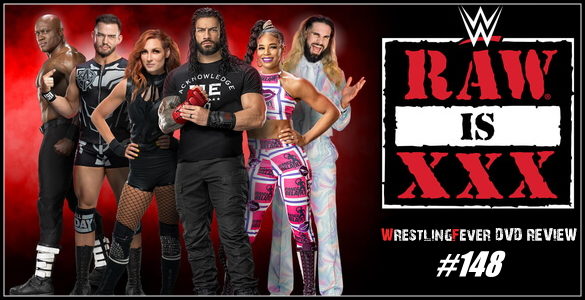 KURZBESCHREIBUNG:
Seit drei Jahrzehnten ist RAW das Ziel für unvergessliche Momente, legendäre Kämpfe und Superstars, die ganze Generationen geprägt haben. Feiere jetzt das Jubiläum der am längsten laufenden wöchentlichen Fernsehsendung der Geschichte mit RAW ist 30! Erlebe das gesamte 30-jährige Jubiläum mit Auftritten von Hulk Hogan, Ron Simmons, The Godfather, DX, Kurt Angle, Alundra Blayze und vielen mehr! Du wirst auch Zeuge von The Trial of Sami Zayn featuring The Bloodline, Austin Theory vs. "The All Mighty" Bobby Lashley für die United States Championship, Bianca Belair vs. Sonya Deville, und so viel mehr! Es ist ungeschnitten, es ist ungekocht, und es ist RAW!
SPECIAL FEATURE (60 Min.) – Der schockierendste RAW-Moment aus jedem Jahr!
HINTER DEN KULISSEN VON RAW XXX

DVD Inhaltsangabe:
RAW RUNS WILD
RAW IS XXX
THE TRIAL OF SAMI ZAYN
Raw Tag Team Championship
The Usos vs. The Judgment Day
THE VIP LIST
THE DARKNESS OF KNIGHT
HIGH STAKES
Steel Cage Match
Becky Lynch vs. Bayley
ARE YOU READY
Six Man Tag Match
Street Profits and Seth 'Freakin' Rollins vs. Imperium
THE TAX MAN COMETH
THE MOST VALUABLE CHAMPION
Bianca Belair vs. Sonya Deville
DREAMS AND NIGHTMARES
THE A-LIST SURPRISE
NO DQ United States Championship
Austin Theory vs. Bobby Lashley
________________________
SPECIAL FEATURE – RAW MOST SHOCKING MOMENTS:
Braun Strowman returns
RAW, 05. September 2022
Big E cashes in Money in the Bank
RAW, 13. September 2021
Randy Orton attacks Beth Phoenix
RAW, 02. März 2020
Becky Lynch, Ronda Rousey, and Charlotte Flair werden verhaftet
RAW, 25. Februar 2019
The SmackDown Women's Locker room invades RAW
RAW, 12. November 2018
Braun Strowman and Big Show collapse the ring
RAW, 17. April 2017
Triple H helps Kevin Owens win the Universal Title
RAW, 29. August 2016
Roman Reigns wins the WWE Title
RAW, 15. Dezember 2015
Seth Rollins destroys The Shield
RAW, 02. Juni 2014
Dolph Ziggler cashes in Money in the Bank
RAW, 08. April 2013
Brock Lesnar returns to WWE
RAW, 02. April 2012
The Rock returns to WWE
RAW, 14. Februar 2011
The Miz cashes in Money in the Bank
RAW, 22. November 2010
Triple H invades Randy Orton's home
RAW, 09. März 2009
Big Show challenges Floyd Mayweather
RAW, 18. Februar 2008
Santino Marella upsets Umaga
RAW, 16. April 2007
D-Generation X reunites
RAW, 06. Juni 2006
John Cena is drafted
RAW, 12. Juni 2005
Evolution kicks out Randy Orton
RAW, 16. August 2004
Kane unmasks
RAW, 23. Juni 2003
Brock Lesnar debuts
RAW, 18. März 2002
Shane McMahon reveals he bought WCW
RAW, 26. März 2001
Rikishi reveals he ran over Stone Cold
RAW, 09. Oktober 2000
Mankind wins the WWE Title
RAW, 04. Januar 1999
Stone Cold Steve Austin meets Mike Tyson
RAW, 19. Januar 1998
Stone Cold Steve Austin stuns Mr. McMahon for the first time
RAW, 22. September 1997
Mankind attacks Undertaker
RAW, 01. April 1996
British Bulldog betrays Diesel
RAW, 21. August 1995
Bob Backlund attacks a WWE Magazine Employee
RAW, 19. September 1994
1-2-3 Kid upsets Razor Ramon
RAW, 17. Mai 1993
_________________________
Technische Daten:
Releasedatum: 10. März 2023
Regional Code: 2 & 5
Laufzeit: 3 Stunden & 11 Minuten
Discs: 2 (DVD)
Sprachen: Englisch (Dolby Digital 5.1)
FSK: 16
Label: tonpool Medien GmbH / Freemantle
_________________________
Fazit:
Ein Wiedersehen mit vielen Legenden und WWE Geschichte winkt auf dieser DVD, welche auch als Blu-Ray erscheinen hätte dürfen, mit zahlreichen Extras – Gerne auch mit deutscher Tonspur. Hallo, hier geht es um 30 Jahre WWE Monday Night RAW!? Neben den aktuellen Geschehnissen wie die Geschichte um Sami Zayn & die Bloodline, Imperium, Bobby Lashley und viele heutige Superstars sind natürlich auch zu sehen. Interessant sind die wohl krassesten WWE RAW Momente aus insgesamt 30 Jahren.
Als Beispiele nenne ich die Demaskierung von Kane, Brock Lesnar Debüt, Evolution wirft Randy Orton aus der Gruppierung, Shane McMahon kauft WCW, 1-2-3 Kid verärgert Razor Ramon und und und…. Geschichhte, tolles Wrestling und Entertainment. Tolle Momente garantieren eine zeitreise für langjährige Fans und eine Geschichtsstunde für alle, die erst seit kurzem zur WWE gefunden haben. Absolute Kaufempfehlung. HIER auf Amazon!