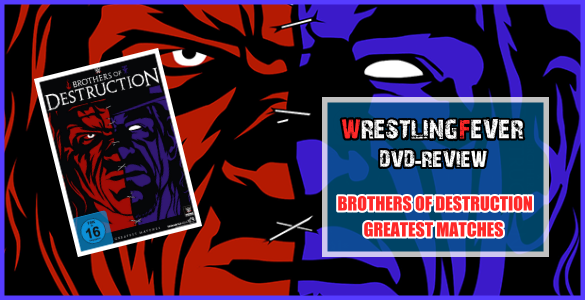 Releasedatum: 26.09.2014
Regional Code: 2
Laufzeit: 2 Stunden & 55 Minuten
Disc: 1 (Blu-Ray)
Format: PAL
Sprachen: Deutsch & Englisch
Produktionsjahr: 2014
FSK: 16
Label: FreemantleMedia International
Kurzbeschreibung:
Die Saga des UNDERTAKER und KANES hat seit dem Inferno, das die Seelen verbrannte, viele schmutzige Wendungen genommen. Einige Male hat das hochexplosive Duo seine tief verwurzelte Rivalität begraben – die allerdings jederzeit wieder aufbrechen konnte. Doch ihre Blutsbande machen die beiden im Ring zu einer unbezwingbaren Match. Und gelegentlich schließen sich alte Wunden lange genug, damit das düsterste WWE-Duo aller Zeiten ein gemeinsames Ziel verfolgen kann: die pure Zerstörung. Auf dieser DVD seht Ihr die BRÜDER DER ZERSTÖRUNG, wie sie sich ihren Weg der Verwüstung durch WWE brennen. Sieben zerstörerische Matches gegen einige der größten Tag-Teams des neuen Jahrtausends werden in voller Länge präsentiert. Die unberechenbarsten WWE-Superstars, DER SENSEMANN, und der LIEBLINGS-DÄMON DES TEUFELS, ziehen an einem Strang, bevor sie sich wieder einmal aufeinanderstürzen!
Offizieller Trailer:

Inhalt:
The Brothers of Destruction
No Disqualification Match for WWE Tag Team Championship
vs. Edge and Christian
SmackDown • April 19, 2001
Tables Match
vs. Dudley Boyz
Raw • July 30, 2001
WCW Tag Team Championship Match
vs. Chuck Palumbo and Sean O'Haire
SmackDown • August 9, 2001
Steel Cage Match for WCW Tag Team Championship
vs. DDP and Kanyon
Summerslam • August 19, 2001
Five Years Later
vs. MVP and Mr. Kennedy
SmackDown • December 15, 2006
vs. Mark Henry and Big Daddy V
SmackDown • February 1, 2008
vs. The Miz and John Morrison
ECW • April 15, 2008
Blu-Ray Extras:
vs. Steve Austin and Billy Gunn
Raw • September 21, 1998
vs. Steve Austin and The Rock
Raw • October 12, 1998
WWE World, I-C, & Tag Team Championship Match
vs. Steve Austin and Triple H
Backlash • April 29, 2001
w/ Daniel Bryan vs. The Shield
Raw • April 22, 2013
____________________
Fazit:
Die "Brüder der Zerstörung" gehören klar zu den wohl beliebtesten Tag Teams der WWE Geschichte. Legendär ist die Fehde der beiden gegeneinander aber auch ihre Zeit als zerstörerisches Bruder-Team. Furcht einflößend kämpften sie gegen tolle Teams, auch bereits verstorbene Stars wie Big Daddy V oder Sean O` Haire sind nochmals zu sehen. Unvergessen sind auch die Dudleys, Edge & Christian, Austin & Rock, Miz & Morrison. Natürlich kämpften sie auch an der Seite von anderen Stars wie Daniel Bryan gegen the Shield. Auf die Geschichte der beiden Hünen wird leider nicht eingegangen. Es gibt immer einen Sprung, wenn sich die Brüder wieder trennten oder gegeneinander fehdeten, das hätte man evtl. mit einbauen können. So wäre das Debüt von Kane und die Geschichte dahinter sicherlich eine Bereicherung für diese DVD gewesen. Im großen und ganzen gibt es "nur" Matches gegen die wohl größten Teams aller Zeiten, viele Erfolge und auf der Blu Ray Version vier weitere Matches als "Bonus". Interessant ist der Wandel beider Charaktere im Laufe der Zeit. So verliert Kane seine Maske. der Undertaker seine Haare und beide verändern sich nicht nur optisch immer wieder. Für Fans des Takers oder von Kane sicherlich eine tolle DVD.
**/*****
Diese Review präsentieren wir in Kooperation mit Freemantle & dem Wrestling DVD Club Deutschland. Natürlich ist die DVD & Blu-Ray bei unserem offiziellen Partner Much Media erhältlich!