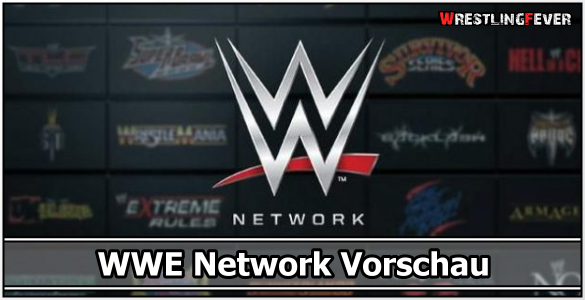 Auch in dieser Woche gibt es zahlreiche Neuerscheinungen auf dem WWE Network. Wir haben heute eine kleine Übersicht für Euch erstellt. Das WWE Network Abo kannst Du HIER abschließen. Hier kannst Du jeden WWE "Pay per View" inklusive WrestleMania, SummerSlam, Survivor Series und den Royal Rumble sehen UND tausende Stunden "Video on Demand"! Von WCW bis ECW etc.
__________________________________
Montag, 16. November 2020
– Chasing Glory with Lilian Garcia: Cesaro
– 8 Prime Time Wrestling Episoden
– Raw Talk
Dienstag, 17. November 2020
Uncool with Alexa Bliss: Taylor Hanson
The Best of WWE: The Best of Survivor Series
Mittwoch, 18. November 2020
Monday Night Raw (19.10.2020)
WWE After the Bell with Corey Graves: Seth Rollins
WWE's The Bump: The Undertaker
Donnerstag, 19. November 2020
Notsam Wrestling: Brothers of Destruction
NXT UK
This Week in WWE
WWE NXT (18.11.2020)
Freitag, 20. November 2020
WWE Break It Down: The Undertaker
Swerve City Podcast: Kyle O'Reilly, Roderick Strong & Bobby Fish
205 Live
Samstag 21. November 2020
– WWE Main Event (05.11.2020)
– WWE Chronicle: Lana
– Talking Smack
– Drew & A: Shark expert Paul de Gelde
Sonntag, 22. November 2020
– Friday Night SmackDown (16.10.2020)
– The New Day: Feel The Power: The Great TV Tournament
– La Previa: Survivor Series 2020
– WWE's The Bump
– The Broken Skull Sessions: The Undertaker: One More Round
– Survivor Series 2020 Kickoff
– Survivor Series 2020
__________________________________
Weitere News & Infos schon bald.
WrestlingFever.de & den Fevertalk findest Du ebenfalls auf Facebook. Folge & Like uns gern – Danke