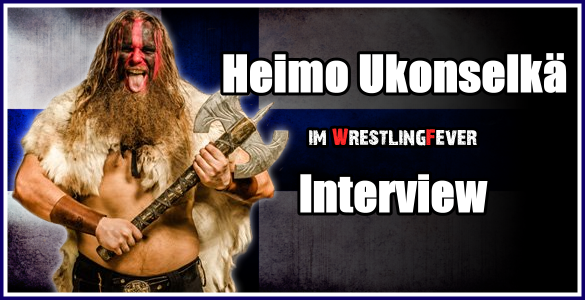 "Heimo Ukonselkae" is popular to fans, but also to promoters. His appearance is extravagant, which is well received, and he convinces everybody in the ring after only a few minutes. Meanwhile there are fans, that clothe theirselves like Heimo. But what about the wrestling scene in Finland? What are his memories about WWE and what is the story behind his ring name? He told us this and many more in our exclusive WrestlingFever.de-Interview!
—————
WF: Thank you for your time, Heimo! We hope you are healthy and without any injuries at the moment?
HU: Thank you for this interview! I am doing well at the moment, thanks for asking! I'm feeling strong!
WF: You are from Finland. Please tell us more about the wrestling scene there. Are there many promotions, wrestlers, fans? Can wrestling be seen on Free-TV and how big is the interest there?
HU: We only have one promotion: FCF Pro Wrestling! We strive to put out high quality, entertaining wrestling shows. We work hard and the audience seems to like it too! We have active roster of 20 wrestlers and we also bring wrestlers from all over Europe to our shows.
We have had wrestling in Finland for 11 years now, so we have built a solid fan base but we still try to spread the word as widely as possible. Mostly our wrestling shows are located in the capital area, but we also try to do shows all over Finland. I think wrestling is still not so well known in Finland, at least most of the people don't know that we have own our Finnish wrestling too. We don't have TV or other mainstream media coverage at the moment, but you can see our stuff on YouTube.
WF: Starbuck is THE man behind the Finnish scene. Who trained you beneath him? How did you get into the business?
HU: I was trained by StarBuck and also Stark Adder, who is another Finnish veteran with wrestling experience of 10+ years. I got in by going into a try-out weekend. I went to see Finnish wrestling show for the first time, and I was highly impressed! Wrestling was a dream for me since I was a kid, but I never thought there was a way for Finnish guy to get into training. At that show I realized that there is a way I could get into the scene and they had flyers there promoting training. I passed the brutal try-out weekend and that lead to the road I'm still in. This was back in 2006.
WF: Is there a story behind your ring name? Who had the idea for it?
HU: The monikers "Wildman" and "Viking" are pretty clear I think, goes with the look. The name Heimo Ukonselkä is actual Finnish name that is "forgotten", as in it is not in use commonly anymore. "Ukonselkä" is also big lake in Finland with magical mysteries surrounding it. It's a strong name with some Lapland magic behind it, I love it!
WF: Your facepaint is also unique! Was it your idea? Does it have a meaning?
HU: Yes, it is my warpaint! The meaning is to give me strength in battle and scare my opponents! Sometimes I tried different colours, but red & black works the best.
WF: As a Pro-Wrestler you have the privilege to travel through many countries. Of course you cannot make sightseeing in every city you work, but do you have a favourite from your career so far?
HU: Well wrestling in "Wacken" Metal Festival is always nice, because you get to enjoy the festival too! I don't have a favourite city in mind; I have enjoyed all the places I have had the opportunity to see. Copenhagen in Denmark and Malmö in Sweden are friendly, laid back cities. Tokyo in Japan was something totally different and exotic, warm and friendly. Hamburg and it's Reeperbahn is a fun place too!
I think it is nice to see not only the city, but other people's homes, where we are usually accommodated on a trip. I like to see other people's homes and experience how they live. I've always felt welcome when sleeping over in other wrestler's homes, and I also have accommodated many our foreign guests over at my house. I like that interaction more than just sightseeing around the city.
WF: Just in case you could choose to wrestle in 3 countries of your choice. Which ones would it be?
HU: I would like to see Mexico and also countries in Middle-East and South-America. Maybe because that would be something totally different than Europe.
WF: What is your family thinking of your passion for the sport, are they worried about your health? Do they watch your matches?
HU: Yeah my mom is really proud of me, but she also keeps asking when I will retire! I understand she is worried about my health, but in sports you have to accept that injuries can and will occur. And yes my family comes to see the matches sometimes, they are very supportive.
WF: Are you the type of guy that watches his own matches and is very critical to himself?
HU: Yes, I hate seeing myself on tape; all I see is mistakes… and excess body fat. But I try to watch the matches so I can learn what I did wrong and what could be done better.
WF: You already worked against several big names of the business. What is your favourite match or opponent from your career and why?
HU: I would have to say my favourite is still a streetfight match against StarBuck in Finland back in 2007. It my first year as a wrestler, still green a hell, and I went against this guy who was not only my teacher but also 20+ years veteran and the and the man who brought wrestling to Finland. It was my chance to show what I got and I took it! We put up a brutal brawl that got the people cheer so damn loud I thought the roof is going to come down. I believe that that match elevated on the next level in the eyes of the audience and bookers too.
I was green as hell back then, and I do believe that I have had bigger and better matches later on my career, but this one has a special place in my memories.
WF: You also appeared on a WWE SmackDown once. Was this the result from a Tryout? What is the story behind the appearance?
HU: Well I met the gentleman Robby Brookside on a wrestling show in Wacken, Germany. He liked my work and offered me the tryout spot in London. Me and aroung ten other guys & girls were there, we trained, wrestled and did promos for two days, at the evening they ran the RAN and SmackDown shows there. After the second day when all was said and done, they came to me saying that they need me for something. So I put my gear on and followed, and we taped the little appearance that was aired in the venue that same night. It was a fun and exciting experience, and now I can say I'm the 2nd ever Finn to appear on WWE, right after Ludvig Borga haha!
WF: Speaking of Tryout… How do you get to a WWE-Tryout and how does it proceed? Can you explain to the fans how they should imagine such a day?
HU: Trough recommendations are the only ways I know of. From what I understand they have talent scouts looking for wrestlers, football players, other athletes etc. If you catch someone's eye, maybe they are interested. That's why I feel it is always important to give your best in the ring and be true to yourself and respectful towards others, no matter where the show is. You never know who is watching.
WF: Thank you very much for your time, we wish you all the best!
HU: Thank you for the questions! It was fun answering them… keep up the good work with the site! Everyone reading I hope keeps supporting wrestling by going to live shows near you and bring your friends too. Wrestling is at its best when enjoyed live and it cannot exist without the fans at the shows.
Please feel free to LIKE & Share this Interview – THX!