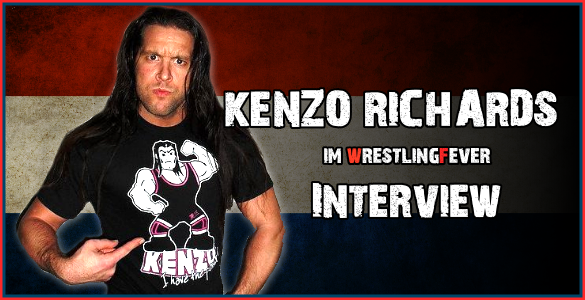 WF: Thank you for agreeing Kenzo, we hope you had a beautiful Christmas well and not increased weight unintentionally 🙂
KR: You're welcome…..and about X-mas , I'm not that kind of a X-mas kind a guy 😉
WF: You're standing now in the ring for over 10 years, would you have expected this at the beginning of your career?
KR: I knew that I was ready to participate in the ring when I started, but would never really expect it would bring me to where I am now. Of course it helped a lot that the European wrestling scene made a big evolution towards professionalism.
WF: How came the decision to be a pro wrestler?
KR: It was a desire from the first moment when I saw wrestling (WWF) on television watching it as a little kid with my grandfather. At that time I was maybe only 8 years old and doing judo at that time……
Later I became multiple National Judochampion and Dutch Judo International. After my judocareer I decided to start a pro wrestling career besides my work as a judo sensei and physical education teacher.
WF: Was the training at the beginning of your career already professional? The "Euro Wrestling" stuck around the year 2000 in its infancy.
KR: I was surprised about the level of trainingmethods and trainingskills when I started, because of my profession as a teacher. The training skills of my first trainer (Mark Kodiak) were very high level. He got trained in the WWA4 (former WCWPowerplant) in Atlanta Georgia, and at the UK Hammerlock school. So I really really started the basics multiple times a week.
WF: You're from the Netherlands where the wrestling scene is manageable. However, there are now a number of well-known talents like Sitoci, End, or even Richards. How hard is it to establish yourself?
KR: With my background as a judoplayer (started when I was 5 years old) this is a very difficult thing in this business. I am not the kind of guy that is trying to sell himself to promotions/federations. If you like my work , well book me. I am not the guy who promises bookings in exchange. I know it's not a bad thing, but not the way I work. And I am NOT the owner of a promotion. But there are a lot of good wrestlers in the Netherlands, like you said. And all of these guys make their own plan. I had a lot of bookings in France the past 2 years, and I have good contacts in the Portuguese scene and of course in Dutch Pro Wrestling (DPW)
WF: I have read that you were trained by HTM for example. This of course sounds great. Were these only seminars or could you really train with the former WWE IC Champion for a longer time?
KR: The Honky Tonk Man is a personal friend for 10 years now. (as a kid I hated the guy) I trained not only seminars, he stayed a couple of times in The Netherlands at my place. I learned a lot about the business. It's always good to shut your mouth and listen to the veterans in our business. (They have great stories too)
WF: You had a tag team match with him. What type of person is HTM? Is he giving you some advice or critique today?
KR: ……yes I've had a tagmatch against him and a single match in the Netherlands. What type of person he is ???
He's the most fun guy I've ever seen. Some people think I'm honest, but this guy REALLY says anything he wants to say! But of course he has a lot of knowledge about the business. Because of his privacy I can't tell you the best stories! 😉
WF: A benefit to a wrestler is to travel to many countries and to get to know new cultures. Many people imagine that is awesome, but it is so that you do not really see much of the countries, right?
KR: That's right, but you meet a lot of nice people in the business. Sometimes , not often, you can stay some days longer. I think I wrestled in 10 different countries, but at the end it's verywhere the same….airport……venue…..hotel…..airport.
WF: How can you imagine wrestling in Dubai? Is it professionally organized there? How is the training of the wrestlers there?
KR: I think it was a one time event. A lot of things could be better. We were happy the guys from QPW (Qatar Pro Wrestling) were there too. They made it a lot easier for us. It was a great experience.
WF: You wrestled D-Lo Brown a time ago, what is this for a guy and how do you remember the matches?
KR: I wrestled RVD and you ask about D-L? That's funny 😉
No, D-Lo is one of the good guys. Very good in the ring, really knows what he is doing. We started in a singles match and we ended in a tagmatch. That was very cool. Outside the ring D-Lo is a real nice guy!
WF: How did you come to the name Kenzo Richards? – Is there a story behind it?
KR: Kenzo Richards is my name! "The Dutch Fighting Machine" "The Sensei of Chops"
WF: What do you do when you are not standing in the ring? Unfortunately, most of the wrestlers in Europe can't live from the wrestling…
KR: Like I said before I work as a judosensei. And also work as a physical education teacher at a school for kids with heavy behaviour problems.My wife runs airheaddiva wrestlinggear. I think the best gearmaker in Europe.
WF: Road stories are always welcome, can you share one with us?
KR: A lot of funny roadstories….. Too many to tell.
That time that Bernard Vandamme and I convinced Titan & Tiny Iron that there is a lot of protein in dog treats/candy? Or the story about Kenzo vs Bully Ray? The best thing is to ask me to tell it all when you stand in front of me. You'll have a good laugh FOR SURE!
WF: Thank you Kenzo!
KR: You're welcome! Hope to see you all one day so you can witness the POWER OF THE CHOP!