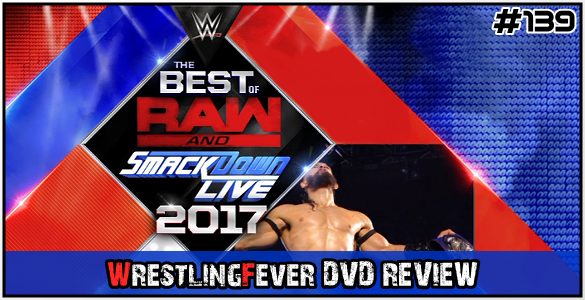 KURZBESCHREIBUNG:
2017 präsentierte neue WWE Superstars, die Championships gewannen, Legenden die zurückkehrten und Momente, die das ganze WWE Universum sagen lies: "This is Awesome! Erlebe jedes Match und alle großen Momente von RAW & SmackDown Live noch einmal und seht warum 2017 ein Jahr ist, was man so schnell nicht vergessen wird.
Enthält Matches und In-Ring Ausschnitte mit:
Roman Reigns, Seth Rollins, Dean Ambrose, Charlotte Flair, Braun Strowman, Jinder Mahal, Alexa Bliss, Randy Orton, AJ Styles, Samaoa Joe, The Usos, Sasha Banks, John Cena, Shinsuke Nakamura, Bray Wyatt, Kevin Owens, Becky Lynch, Finn Bàlor, Cesaro, Sheamus, Bayley, The New Day, Bobby Roode, Carmella, Chris Jericho, The Revival, The Miz, Maryse, Big Cass, Enzo Amore, Big Show und vielen mehr!
Trailer:

DVD HIER BESTELLEN!
DVD 1:
It's the Best of RAW & SmackDown Live!
Participation Award…or IC Gold?
Intercontinental Championship Match
The Miz vs. Dean Ambrose
SmackDown Live • 03. Januar 2017
Steel Cage Match for the SmackDown Women's Championship
Alexa Bliss vs. Becky Lynch
SmackDown Live • 17. Januar 2017
Three Legends, One Ring
RAW • 23. January 2017
Will Charlotte Flair Fall Victim to the "Hug Life"?
RAW Women's Championship Match
Charlotte Flair vs. Bayley
RAW • 13. Februar 2017
A Look Back:- The Festival of Friendship
Cruiserweight Championship Match
Neville vs. Rich Swann
RAW • 06. März 2017
#1 Contender's Match
Randy Orton vs. AJ Styles
SmackDown Live • 07. März 2017
A Look Back:- Seth Rollins is Back to Slay "The Game"
SmackDown Tag Team Championship Match
American Alpha vs. The Usos
SmackDown Live • 21. März 2017
Who is the #1 Power Couple in WWE?
SmackDown Live • 28. März 2017
The Future is Now
The New Day vs. The Revival
RAW • 03. April 2017
The Rockstar Has Arrived!
SmackDown Live • 04. April 2017
"I'm Not Finished with You!"
RAW • 10. April 2017
DVD 2:
Triple the Fun
Triple Threat #1 Contender's Match
Finn Bálor vs. Seth Rollins vs. The Miz
RAW • 01. Mai 2017
United States Championship Match
Chris Jericho vs. Kevin Owens
SmackDown Live • 02. Mai 2017
Roman Reigns vs. Seth Rollins
RAW • 29. Mai 2017
A Look Back:- Samoa Joe Sends a Message to "The Beast"
Et tu, Cass?
RAW • 19. Juni 2017
Gauntlets & Ladders
#1 Contender's Gauntlet Match
Bayley vs. Sasha Banks vs. Mickie James vs. Nia Jax vs. Emma vs. Dana Brooke
RAW • 26. Juni 2017
Money in the Bank Ladder Match
Charlotte Flair vs. Becky Lynch vs. Natalya vs. Carmella vs. Tamina
SmackDown Live • 27. Juni 2017
AJ Styles vs. Chad Gable
SmackDown Live • 04. Juli 2017
Good Friends, Better Enemies
Triple Threat Match for the United States Championship
Kevin Owens vs. AJ Styles vs. Chris Jericho
SmackDown Live • 25. Juli 2017
Roman Reigns vs. Braun Strowman vs. Samoa Joe
RAW • 31. Juli 2017
DVD 3:
A Dream Match
#1 Contender's Match
John Cena vs. Shinsuke Nakamura
SmackDown Live • 01. August 2017
Ambrose & Rollins Re-Unite!
RAW • 14. August 2017
Bobby Roode vs. Aiden English
SmackDown Live • 22. August 2017
A Look Back:- John Cena & Roman Reigns Get Personal
Steel Cage Match
Braun Strowman vs. The Big Show
RAW • 04. September 2017
Street Fight for the SmackDown Tag Team Championship
The Usos vs. The New Day
SmackDown Live • 12. September 2017
Curt Hawkins Feels the Wrath of Braun Strowman
RAW • 25. September 2017
Braun Strowman vs. Dean Ambrose
RAW • 25. September 2017
It's Rusev Day!
SmackDown Live • 26. September 2017
A Look Back:- Reigns Falls Victim to the Numbers Game
"Rumors" of a Shield Reunion
RAW • 09. Oktober 2017
A Look Back:- Under Siege
WWE Championship Match
Jinder Mahal vs. AJ Styles
SmackDown Live • 07. November 2017
SmackDown Women's Championship Match
Natalya vs. Charlotte Flair
SmackDown Live • 14. November 2017
Intercontinental Championship Match
The Miz vs. Roman Reigns
RAW • 20. November 2017
Excited for 2018
Technische Daten:
Releasedatum: Februar 2018
Regional Code: 2 & 5
Laufzeit: 8 Stunden 44 Minuten
Discs: 3 (DVD)
Kommentar: Englisch
FSK: 16
Label: FreeMantle Media
Fazit:
2017 war ein erfolgreiches, aufregendes Jahr für viele WWE Talente und auch die Fans. Braun Strowman dominierte klar das WWE Geschehen aber auch andere Superstars glänzten. AJ Styles ist unaufhaltbar und sein Talent unumstritten. Schön, das er bei WWE so glänzen darf. Aber auch die Story um Jericho und Kevin Owens war ein Highlight des Jahres 2017.
The Shield kehrte zurück, Lesnar war "ab und an" zu sehen und "The New Day" brahcte die Fans nicht selten zum lachen. Der "Big Dog" Roman Reigns kämpft immer noch um die Anerkennung der Fans und John Cena trat etwas kürzer. Man darf die Wrestlerinnen nicht vergessen und Enzo Amore, den wir wohl so schnell nicht mehr sehen werden.
Die Cruiserweights werteten nicht selten die A-Shows auf. Matt Hardy ist "Woken", The Miz steht wohl auf dem Höhepunkte seiner Karriere. Ihr seht, es geschah so viel, das es schwierig ist, alles zu nennen. Kauft dieses DVD-Set für Euer Archiv und blickt in ein paar Jahren gerne zurück, in die Geschichten der Jahre zuvor. Für Fans und Sammler, meiner Meinung nach, ein Pflichtkauf.
____________________
*****/*****
Diesen Artikel kannst Du bei Amazon als DVD bestellen.
_____________________________
Feel free to Like & Support us on FACEBOOK & TWITTER – THX 🙂