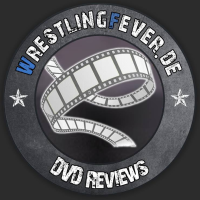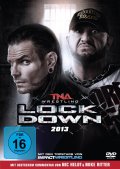 Release: 05.07.2013
Regional Code: 2
Laufzeit: 3. Std. 51 Min.
Sprachen: Deutsch, Englisch, Französisch
DVD: 1
FSK: FSK 16
Label: AL!VE
Kurzbeschreibung:
TNA Wrestling ist zum ersten mal im Alamodome von San Antonio zu Gast und präsentiert den härtesten Pay-Per-View Event des Jahres. Bei LOCKDOWN 2013 treffen die größten Rivalen im Stahlkäfig aufeinander und alte Rechnungen werden endgültig beglichen.
Inhalt:
X-Division Championship Match – 3-Way Dance
Kenny King (c) vs. Zema Ion & Christian York
Singles Match
Joseph Park vs. Joey Ryan
TNA Knockouts Championship Match
Velvet Sky (c) vs. Gail Kim
Singles Match
Robbie T vs. Robbie E.
TNA World Tag Team Championship – Three Corners Match
Austin Aries & Bobby Roode (c) vs. Chavo Guerrero/Hernandez & Bad Influence
Steel Cage Match
Wes Brisco vs. Kurt Angle
Lethal Lockdown Match
Team TNA vs. The Aces & Eights
TNA World Heavyweight Championship – Steel Cage Match
Bully Ray vs. Jeff Hardy (c)
Extras:
Before the Bell: Lockdown
Post Match Interviews
Exklusive SoCal Val Interviews
Exklusive Fan Interaction Footage
Fan Frenzy etc.
Fazit:
Zuerst einmal sei gesagt, dass Bild und Tonqualität wirklich gut sind. Das FSK Zeichen auf dem DVD Cover kann man verschwinden lassen, da auch diese DVD ein sog. Wendecover hat, sicherlich für viele Sammler eine positive Eigenschaft.
Der PPV an sich ist wirklich gut, gerade im Bezug auf die "Aces & Eights" hat sich hier wirklich was getan, und ohne vorgreifen zu wollen kann man sagen, dass hier einige überrascht wurden, auch bei TNA! Das Match zwischen Angle und Wes Brisco endet auch anders, als viele erwartet hatten. Auch das X-Division Match war toll, so dass dieser PPV wirklich empfohlen werden kann. Sport1 strahlt die Großveranstaltungen Live und in HD aus, bisher bekam man dafür nur positives Feedback. Der PPV endet mit einem verdienten Champion! Top!
Auch an Extras (wie man oben sehen kann) fehlt es an dieser DVD nicht. Während es bei Genesis kaum Extras gab, bringt Lockdown wieder einige Specials mit. Eine ganze Stunde an Extras – Bravo! Diese DVD jetzt kaufen!
****/ *****