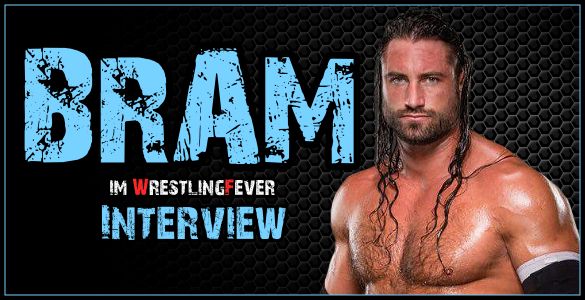 WF: Thank you for agreeing to do this interview BRAM 🙂
B: No problem, thank you for having me!
WF: You are on tour quite a lot recently but most people know you from IMPACT Wrestling. There are a lot of changes going on which the fans seem to enjoy. Is it as positive to you guys ?
B: Yeah, am actually in the uk now. till the next impact tv tapings in july. there's so much wrestling here in the uk. it makes sense for me to stay till then. yeah,there are a lot of changes happening..i've been away in japan wrestling for noah the last set of tapings so i can't give a perfect answer to any changes as i've not been there…regardless it's all positive from what i've heard! the atmosphere is and always has been fantastic…the place is like a family to me and i love being there and around the boys and girls of impact wrestling..
WF: Your story is an interesting one. You didn´t get into this sport as a typical fan. You stumbled upon VHS tapes and legend says you started out as a referee. How was it? Why referee? What fascinates you about this sport?
B: yeah i stumbled upon wrestling by mistake. my granddad had an old Wrestlemaina on VHS for some reason (he hated wrestling hahaha) i saw that, i think Hogan vs Sid. then later friends at school showed it to me. my family didn't have cable so i couldn't watch it.. i'd borrow tapes off friends or stay around at other peoples houses to stay up and watch it when i was a kid! i saw it and was amazed at these guys taking crazy risks, the blood,drama and violence! it looked like the best time ever to me! i thought yup that's what am gonna do when i grow up! i want to be a wrestling rockstar haha!
yes, i started out refereeing when i was about 15/16 at a local small promotion in Birmingham England. i was terrified and had no idea what i was doing. i later started wrestling for them without any training… needless to say i was bad hahaha!
WF: How long where you referee before you wanted to step up?
B: i refereed for about a year then i finally had my first match in maybe 2002.. i was so green and had no idea what i was doing.. when i was 17 i moved close to leeds and found a proper wrestling school ran by Jeff Kaye and the late great Drew McDonald. it was just mats on a concrete floor so you learned fast… it could,and would kick your ass.. i broke my my toe on my first day actually!
WF: You surely changed your workout/training and diet, in what way?
B: i was a fat skinny kid when i was a teenager, i knew i needed to look like the superheroes i watched on tv… so my journey with the gym began at the age of around 16. my training has changed a lot over the years. when i first started i'd lift heavy and hard and spend hours in the gym. now with me being older and wiser, not to mention being slightly beat up i don't train heavy. i cant' squat any more or deadlift or bent over row. that's not stopped my development and i just work around nagging pains or injuries… i've been pretty lucky so far in that respect! my diet has changed a lot too, i now eat healthy and have small portions, low carb high fat and eat every couple of hours. when i was a kid id eat everything and anything.. i will admit i got big, but in a bad way, i got fat hahaha!
WF: Did or do you have idols?
B: Growing up i idolized Shawn Michaels and the Hardy Boyz… i was a huge fan of both. they definitely made an impact on me as a kid.. i would say the reason i am a pro wrestler today is down to the Hardys! i blame them haha!
WF: What kind of music does BRAM listen to during workout?
B: hahahaha !! my music isn't everyone's "cup of tea". i listen to heavy metal, deathcore and anything similar… i like heavy riffs and screaming am afraid! to me it's calming, and can also get me pumped up!so if you see me in the gym working out and headbanging at the same time you know what am listening too hahaha!
WF: Who taught you the basics? How long did you have to train until your debut? What are your memories about your first match, trainers, fans?
B: i was originally trained by my friend Crush. briefly before going to the school in Leeds! i didn't train long until i had a WWE try out in 05.. i was 18 or 19 years old. they even threw me on Sunday Night Heat and had Snitsky and Tomko whoop my ass haha! i pretty much stared from then on wrestling up and down the country every weekend until i started for All Star Wrestling who ran the Butlins camps..so i'd be wrestling 6 days a week through the summer. i learnt on the job, not in a school. there's only so much a school can teach you, you have to get out in front of people to really learn.
WF: In 2012 you came to the FCW, former development promotion of WWE and here we get back to *the Ascencion* – do you know the recent version? How did the stable work back then?
B: Yeah in FCW/NXT i was in the Acsencion. there was originally 5 of us! then it dropped to 4, then just me and Konnor after people left or moved up to the main show! i still am friends with both Viktor and Konnor! am proud of them for doing what they do! it was actually Dusty Rhodes who i love and miss, who put us all together..he saw something in us and it kind of moulded into its own thing, it took on a darker almost vampire feel…it was a lot of fun… i even had a light in my hand on the entrance that i have shone in my face. we really wanted a grand entrance and at the time no one was doing entrances…now everyone has a special one.
i think me and Konnor where close to going on the road full time. we were supposed to come up after the Shield i believe or at least from what i heard. however unfortunately i got into some trouble with the law one night outside of the ring and me and WWE had to part ways amicably. there was no hard feelings, i made a mistake and i had to suffer the consequences of my actions. i hope one day i can return… time will tell. i am also very happy with IMPACT so am in no rush..
WF: At IMPACT Wrestling it all began with a story between you and Magnus. Your gimmick went down very well (with me too), a tough BRAM with a certain grimness. How did you like that storyline, did you have any say in it – were you satisfied?
B: Magnus is a close friend of mine, in fact one of my best mates… i was even best man at his wedding to Mickie James. he helped me get a job with IMPACT Wrestling. he made it possible for them to take a look at me. it was timed well because he was looking for something new to run with after loosing the world championship… they wanted to turn him into a badass and so used the storyline of us being friends from when we were kids which is actually true. i loved that storyline… i was with my best mate running around beating people up! it was super fun and after years apart in different places and companies we were back together like old times!
i look up to Nick (Magnus) he's an amazing person and i truly value him as a friend, he's had my back since day one and ill always be grateful to him.
i was very satisfied with it, they let me naturally develop and let us have free reign pretty much with the storyline to a degree….we even took it full circle and had a killer feud against each other using Mickie too! it was one of my favourite storylines and working with both of them was amazing!
WF: Who got the idea of the character and name of *BRAM*?
B: The character was supposed to be an old friend who showed up with a chip on his shoulder, a badass who got into trouble, hated everyone, drank beer and got into fights!someone no one would like, a real piece of crap hahaha! i think impact looked at my history outside of the ring and used it to a degree to say 'hey this guy is nuts and dangerous'!
the name bram was given to me by impact…they told me that they had googled names from the area i grew up (Chesterfield) which is funny because i've never met a Bram or know anyone called Bram hahaha! i also think maybe knowing i was a vampire character in NXT they also took it from the writer of Dracular – Bram Stoker.
WF: In a match against Abyss you injured your hand badly – Is that true?
B: Funny enough in the match with abyss i didn't hurt my hand. i think someone just wrote that in my Wikipedia being funny or not knowing…that's not true at all. besides some cuts and bruises i was fine hahaha! i love abyss and loved our matches. he helped legitimize me and helped me move up in the eyes of people. ill always love abyss and appreciate all he has done for me!
WF: Throughout your career you have worked with big names. Is there something like a favorite feud for you (with whom)? Favorite match? If so why?
B: yeah through my career i have worked some big names… the Hardys who like i said inspired me to be a wrestler, i love those guys! Bobby Roode and Lashley were always fun, they're machines and can go!! so you better be ready haha! same with James Storm who's a close friend of mine. working with Tommy Dreamer was a blast, he helped me a lot when i first came into IMPACT! any time i can be around Tommy i jump at the chance! of course Magnus is up there, a great feud and nothing's better than wrestling your best mate! i had a killer angle with Ken Anderson, we did some cool stuff and we really gelled well, he's another top class person and entertainer! me and EY had a fun storyline and feud, i learnt a lot from him he's amazing,i love watching him. he throws one of the best punches i've ever seen! i do miss him hahaha! and of course abyss who helped put me on the map!
WF: How did it come to *Death Crew Council* (DCC)? Do you like being heel, it looks like you really enjoy and grow in that role
B: the DCC… like i said me and James Storm are close friends so it was Jame's idea for us to form a group!we both love drinking beer so it made sense hahaha! Eddy Kingston had just signed with IMPACT so it was a no-brainer to bring him in, Eddy's brilliant! there was a lot more backstory etc. that storm came up with but it was never used! we had fun and did some cool stuff for as long as it lasted. i love being heel, its a lot of fun. it comes naturally to me, to be honest in real life am a nice guy… i can just turn it on real easy haha!
WF: Do you have a funny or interesting roadstory you´d like to share?
B: ah man there's so many funny stories off the road.. i've really had a blast. i think i've taken to may chairshots to the head to remember anything specific am afraid hahaha, i probably would get into trouble if i told some of them hahaha!!!
WF: I simply have to ask – What happend with Pro Wrestling Noah, they suspended you which lead to a lot of confused faces… Can you/Do you want to tell us about it?
B: with Noah… me and Robbie E were asked to come over to japan to take part in the global tag league. me and Robbie were killing it as a team over there and having great matches! i love japan and the style and so i was excited to have the opportunity to go over there and wrestle for Noah! Noahs office is great and the boys were great to us! i loved it!
however one evening as a joke i lay in an ice cream fridge and took a picture, which i put on my Instagram account… i was trying to be funny and meant no harm. i had no idea it would upset people, no idea! i publicly apologized for the incident to the media but it was too late.. Noah suspended me due to the picture. i hope one day i can return to Noah and finish what i started. i like it there. the relationship between Noah and IMPACT is completely fine and there are no hard feelings! i just had no idea it would be such a bad thing and honestly meant it only to be funny. am hoping once the dust settles i can come back because i know they liked me.
WF: What does your future look like , do you stay informed about WWE, is there the chance of a comeback to NXT – would you want that?
B: never say never with WWE… for now and the foreseeable future i'll be staying with IMPACT..it's my home and am excited about the company's future! i stay in contact with some of the boys there, but i don't communicate with WWE's office. would i come back to NXT? time will tell! i do miss Drew McIntyre though so one day you never know..i want to keep my nose clean,stay hungry and healthy first and foremost.
WF: Do you follow Charlottes career?
B: Me and Charlotte are still friends to this day…in fact she was just with my mum a week or two ago! she's still part of the family! i cant say i watch much wrestling anymore. but when i do i'll watch Ashley to see what she's doing! besides being an amazing person she's killing it on tv. she's a natural superstar who makes it look effortless..she's without question the best female wrestler off all time and am proud of her…the wrestling world is her oyster!
WF: Thank you for your time, your answers and this interview – all the best!
B: thank you for having me! anytime you want me i'll come back! i want to thank the fans that support me, you make this worth it so thank you! Follow me on Instagram & Twitter
Cheers
_________________________
Feel free to LIKE & Support us on FACEBOOK & TWITTER – Thank You 🙂