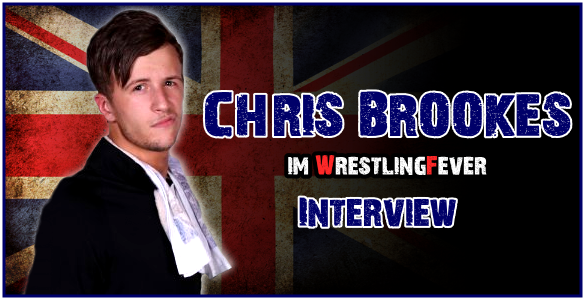 WF: Hello Chris! Thanks a lot that you took some time for this interview! We're excited to see you back in Germany really soon. How are you doing?
CB: I am doing great thank you! Very busy.
WF: When and why did you start with training wrestling?
CB: I started training initially when I was pretty young with the Hunter Brothers. It was around the time I was finishing school and my friends and I would mess around thinking we were wrestling in our gardens or whatever until one of them told me his cousin was attending professional wrestling training.
WF: Did your friends and family support your decision to become a wrestler?
CB: Pretty much! Most tell stories of their parents really being against it but my mother and step-father especially have always been very supportive. They love coming out to shows whenever they can and have always helped however they can.
WF: The Hunter Brothers trained you, what can you tell us about working together with them?
CB: Without a doubt I owe almost everything to them. Had it not been for them taking me to other schools and shows every weekend and trying to find roles for me to do on those shows (whether it be refereeing, camera work, running, etc.) I'd probably have never gotten to make most of the contacts I did or overcome how socially awkward I was early on. Even to this day they are still two of my favourite opponents and offer constant advice, support and critique. They're both vastly underrated and I think sell themselves short a lot.
WF: Have they been your first trainers? How went a typically session with them and how is your training nowadays?
CB: They were my first trainers along with Brandon Thomas & The Clarke twins. Sessions back then were much the same as they are now with warming up, rolls, bumps and drills. These days I attend ATTACK! Pro training every Monday alongside Pete Dunne.
WF: Are you doing any other sports besides wrestling?
CB: I like swimming?
WF: Have you got idols, that may have influenced your in ring style?
CB: It's ever changing but I find myself constantly looking for more inspiration. I think these days too many young wrestlers become infatuated with one mainstream performer and then wind up being a carbon copy of them. I like to watch a wide variety of things (usually things less on the average consumers radar) and find inspiration there. Lately I've been watching a lot of All Japan Womens & GAEA, for example!
WF: How were the Calamari Catch Kings established?
CB: I first met Jon through Fight Club: PRO training in 2011. Our initially conversation was struck up because I was wearing an All Japan Pro Wrestling shirt and he asked if I actually watched it or just had the shirt because it was cool! I'm not sure where exactly our relationship developed from there but we got closer to the point that when he would visit England he would stay with me and my family.
My first bit of real exposure came from singles matches with him and I kind of got penned as his protoge. From there we got the opportunity to team at Fight Club: PRO a few times as just 'Gresham & Brookes' before being offered the opportunity to tag at wXw.
That was when we came up with the name and theme of the team.
WF: Even you're still young, you already got lots of experience. Can you still remember your very first match?
CB: Of course! My very first singles match was against 'The Sensational #1' Jason Fellows at Tipton Sports Academy (maybe a 10 minute walk from my front door). It was terrible.
WF: Meanwhile you've already been to the USA and Germany. Can you tell us about the differences between German, American and British fans?
CB: German fans are very welcoming and warm, but very particular I think in what they like. I'd say British fans are more easily pleased. American fans don't like when you disrespect their flag, I found that out.
WF: Where did you enjoy your stay the most, if you had the time to meet people and see some of the country?
CB: Ireland earlier this year was really fun. We were only there for a day but the crowd was amazing and very passionate (/very drunk). That was a good little trip with two close friends. I love being in Germany. It's a beautiful country with an amazing wrestling history and I'm very humbled to have the opportunity to perform there.
WF: What are your goals in the wrestling business?
CB: Right now I'd like to see more of Europe through wrestling. I'd really like to go to France, Switzerland, Poland, etc. and keep making trips to wXw.
WF: Against who was your favourite match so far and who is your dream opponent?
CB: My favourite match ever was probably the Infinity Finals last year with Tyler Bate. Everything just clicked and I think we had very good chemistry that night. He's a very talented young man. Dream opponent for me right now would be to face Zack Sabre Jr. Again. I got pushed to my limits in our first two encounters and with his schedule it's unlikely to happen soon but i'd love to get the chance to face him again.
WF: You already had some Tag Team matches together with Nixon Newell (may she get well soon!). What is your opinion on intergender matches?
CB: I think if done correctly they can be great. Obviously they can be done completely wrong (as can any style of wrestling) but I think when done right it can make for a very interesting dynamic and engaging sight.
WF: What's your opinion on ladies wrestling at the moment?
CB: There definitely seems to be a bit of a boom with it in the U.K. at the moment and that's great.
WF: What you think about free open air events, like the Sportfest in Oberhausen?
CB: Always a fun day. The crowd are enthusiastic and you get a chance to face a bunch of opponents you might not typically get to, which is great.
WF: At the last Sportfest in Oberhausen you seemed to really enjoy being the crowd favourite, especially all the children were cheering for you. But you've really been a rule breaker, too. What do you enjoy more, being a face or a heel?
CB: I enjoy both! A passionate response from people regardless of whether that is positive or negative is fulfilling for me.
WF: Is there a typically tour day or is every day during a tour different?
CB: Often meeting up in Birmingham with the deisgnated driver of the day (typically Damian Dunne or Ryan Smile) and then cramming into a small car, plugging someones phone into the AUX and hoping it doesn't get so hot in there your tan melts.
WF: On your social networks everybody can see that you're touring a lot with Tyler Bates and Nixon Newell. I bet that lots of funny things happen during that tours, can you tell us something about that, maybe a short story?
CB: I'm not sure how much I can delve into that, but next time you speak to Nixon ask her about her Bill Cosby impersonation.
WF: How active are you on social networks and where can your fans find you?
CB: I tweet stuff over at @OBEYBrookes and take very pretentious photos @christofarr on Instagram. Enjoy!
WF: How can an interested promoter book you?
CB: chrisbrookescck@gmail.com
WF: What are you doing in your free time?
CB: Drinking a lot of coffee and reading a lot of books.
WF: As a conclusion, some words to your German fans, please.
CB: Thank you for supporting me! I'm very fortunate to get to see your country and perform for you and to be a part of Westside Xtreme Wrestling is a real privilege. They're incredibly hard working so do your bit to support the scene and keep going to shows. Cheers!