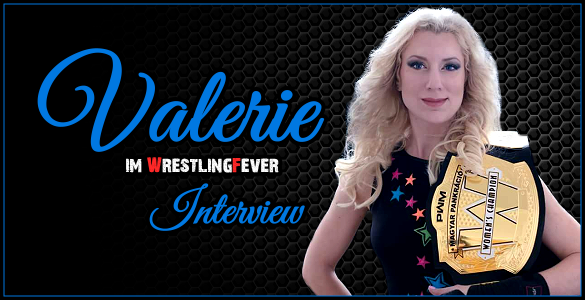 WF: Valerie, thank you for the very nice assent! We are always glad to be allowed to interview and introduce new talents in Germany. How are you doing at the moment?
V: Hi there! Im doing great, thank you and very happy to be part of the Wrestling Fever project and do the interview!
WF: We have big problems with corona, worldwide, How are you doing?
V: Well, the whole Corona situation has been tough for everyone around the world, the most difficult part being that you cannot travel and see you friends or family, as well as realizing hom much we miss simple basics in our life, that we have been so used to.
WF: You were born in Russia, live in Hungary and trained in the US! Sounds very "international" and interesting to me. Why did you train in the USA and how did that happen?
V: Yes, thats correct, throughout my whole life I have been traveling all around the worls because of my life style, work and wrestling. I have chosen USA as a wrestling training point, as this has always been my dream the moment I have seen wrestling (then WWF) on TV. And its everyone's future wrestler dream to be able to train and wrestle in the USA.
When I was still studying in my University in Moscow – I go an opportunity to go on a student exchange program to MA, Boston, which was an amazing combination of being able to study, work, travel in the USA, as well as start my wresstling training and career.
WF: You went to the former school from Killer Kowalski, who is such a big legend in this sport. Who runs the school now and who is the trainer there?
V: Prior to me going to the USA, I have contacted numerous wrestling schools in the USA, particularly East Coast, and got a very nice reply and invitation to join the trainings especilly from former Killer Kowalski school. The place has been changed since then numerous times, had a smaller space, but had a great ring, great trainers and super wrestling student team! At the time when i was there, the head trainers were Master Richard Byrnes (who was a pro wrestlers and a Black Karate master as well), together with Tony Roy.
WF: You were the only female student, right? Was that a disadvantage or did it not matter?
V: I was correct! 😀 these days there are more girls joining the wrestling trainings, however in Europe its still not so much as in the USA. But at the moment when I started, i was the only girl there, as well as not being American, so I mad equite an impact and impression there, and all the guys were really supportive and amazing in their support and teamwork!
WF: How long did you stay there? Did you only train the basics there or did you enjoy a longer training?
V: I have been in the US over 1,5 years, so I have truly enjoyed my trainings, which were 3 times a week, as well as joining the local events.
WF: You had your debut 2003, how do you remember this match and your opponent? Were you "satisfied"?
V: I was nervous and excited at the same time, the match was not perfect, I still remember, but it was a great start, and being able to finally get into the ring for the first time as a wrestler and perform in front of fans – is an unfogetable feeling…
WF: You have now performed for a number of Wrestling promotions worldwide, from Austria to Germany till Russia. You held some titles and traveled around a lot. Is it possible for you, to take a Look at the cities, countrys?
V: My first Womens Champion title I got in Russia in the IWF promotion, which was an amazing moment, when you become a Champion and have a belt in your hands…Other titles I have won include Womens Champion belt in Hungary, which I held 2 times, as well as Undisputed World Championess title in Austria for the Undeground Wrestling promotion, and also which was also a big moment for me – to have a International Womens title which I won in Amman, Jordan.
WF: How did you get into wrestling? Did you or do you have idols, favourite Matches or ONE Memory, who comes to your mind? how did your family react?
V: My love with wrestling started when I saw for the first time the matches of WWE (WWF) on TV for the first time, with such superstars as the Rock, Triple H, Undertaker, etc…I was absultely captivated, and when I was watching it with my sister – I knew – this is what I want to do one day! My favorite female wrestlers at those times were Lita, Trish Stratus, Victoria.
My family has not really been impressed with my passion of wrestling, which started to grow very fast from day one, when I saw it 😀
WF: After the US, you travelled to Russia, were you followed your training. What can you tell us about the russian wrestling scene, i heard storys about Russia, so they smile at the wrestling there?!
V: When I was in Russia I have been wrestling for the IWF – the oldest and the main Russian promotion, based in Moscow, organizing shows for over 15 years now…A lot of professional wrestlers from this promotion are as well wrestling worldwide, include such pro wrestlers as Vladimir Kulakov, Anton Deryabin or Ivan Markov.
They are all great wrestlers and people with whom I was starting at IWF long time ago…
Fans also love wrestling in Russia, and the number of promotions is also growing, as wrestling is spreading around Russia as well, attracting more fans everywhere.
WF: You have been in the ring for over 10 years and now you also run wrestling shows. How did it come about to change the "side"?
V: I have been a wrestler for a long time, and this is in my blood, this has always been part of my life, and once Corona is over and we will get back to our wrestling events, for sure I will get back into the ring more then once. But also at this time – I am also creating something different – own promotion, which will host the wrestling starts from all around Europe, organizing in-ring and underground wrestling events, which we cannot wait to share with wrestling fans soon!
WF: Your shows take place in Hungary, where you live right now, right?
V: My main residence is in Hungary, correct, and some of the shows will be taking place in Budapest, Hungary. The other shows will also happen in Germany.
WF: We talked for a long time in advance and you told me that you also speak some German and that you are often here, may I ask why that is – How many languages do you speak? Do you have family here?
V: For speaking languages – I speak a few, including Russian, English, Polish, Hungarian, and now also improving my German.
I have been spending quite some time in Germany, Bavaria because of my boyfriend, Markus, who is original Bavarian. He is also very supportive of my wrestling, as well as all the future events plans!
WF: You also tried "underground wrestling", how was that experience for you?
V: Undergound wrestling is something totally different, and that was a great experience for me. This kind of wrestling you either love or hate, and even though i wasnt sure about it in the beginning, once I tried it – I truly did enjoy working the shows in Vienna. Its tough in all the senses, but the athmosphere is amazing and fans are absolutely great! Cannot wait to be part of it again!
WF: As we can read, you get around a lot and soon there will be a column about you on WrestlingFever.de. I'm really looking forward to it and would be delighted, if you could briefly explain to us what fans can expect ?!
V: I am very excited myself, as I am looking forward to share my experience with the fans, as well as give the sneak peak of whats going on in the wrestling scene in Hungary as well.
WF: Thank you Valerie for your time and this interview! If you would like to be contacted and / or booked, how can interested promoters get in touch? Is there anything else you want to say to the fans?
V: First of all thank you for inviting me for this interview! Im looking forward to full power in wrestling this year, as its been too long for all of us. I cant wait to get back into the ring to show our fans that we are still there and will deliver the best shows ever no matter what. Thanks to all for supporting us and being patient as well! I myself am always looking forward to new challenges, shows, and events, and can be always reached easily on my Facebook Page. The updates for our events will be updated on our Facebook and Instagram page @European Star Wrestling ESW!