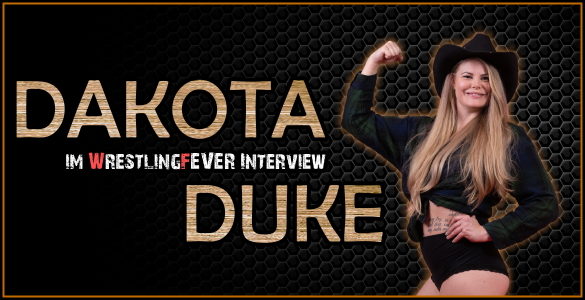 © Photo by Marcus Malm
WF: Dakota, it's a pleasure to introduce you to the wrestling fans, we hope you're doing well?
DD: The pleasure is all mine, thank you for taking an interest for me as I'm just a rookie in the wrestling world. I'm very well thank you kindly!
WF: I want to be honest, we don't know much about the wrestling scene in Sweden. What can you tell us about it?
DD: Of course I can tell you more about the Swedish wrestling scene. Wrestling is up an coming here in Sweden and we have a good crowd in Stockholm, Göteborg and Malmö. I'm a part of Stockholm wrestling and freedom pro here in Stockholm, Sweden. But we also have really good wrestling shows by Svensk wrestling and Svensk wrestling syd as well. We have some pretty good amazing wrestlers here in Sweden with a lot of championships under their belts like one of my idols Aliss Ink for example who competes a lot in Germany.
We have a good collaboration here with national and international wrestlers and 2023 is gonna have a lot to offer in the wrestling world, you will here more from Sweden I'm sure.
WF: How many viewers find your shows and how is wrestling generally seen in Sweden? Are the Swedes skeptical about "sports entertainment"?
DD: At the Stockholm wrestling shows we have about 300 in the audience but we have thousands streaming it… I don't really now the numbers for the other shows but I think their the same…
WF: When did you discover wrestling and why did you want to do it?
DD: I always loved wrestling but I wasn't that in to it until a couple of years ago. I used to compete I Thai boxing and later on MMA and I lived in Thailand a couple of years, I didn't even realize that wrestling was an option for me. And after an shoulder injury with several surgeries the doctors told me that I couldn't compete in thai boxing or MMA anymore so I saw my opportunity to star wrestling.
WF: So you started watching wrestling again, or was it always only interesting for you from a sporting point of view – What do you like about pro wrestling?
DD: I loved the feud with The storyline evolved into a love triangle involving a feud between Otis and Ziggler over Mandy Rose. On the April 3 episode of SmackDown, it was revealed that Sonya Deville was working with Ziggler to keep Otis from Rose.
I thought it was hilarious and so sweet. I think it was 2019 or 2020.
No I wish I watched a lot when I was younger but I found wrestling pretty recently in about 2018 and fell in love with it. Of course I've watched it before and knew what it was but wasn't really involved.
My role models right now would be mickie James, Toni storm, liv Morgan, charlotte Fliehr, Becky lynch… but I change my mind every day 😂 I'm like a kid… they are all candy for me and I love something about them all. I like and love the entertainment, the story lines, the moves, and how it constantly changes and involves into something even better.
WF: What promotions can you see in Sweden – is there also the WWE Network or something like that? WWE or AEW on Free TV?
DD: Yes we have wwe network in Sweden. We also have aew and roh on fite network. And we have dazn where impact is… and soon also aew sense they are moving to dazn.
WF: So when did you start wrestling training, was it easy to find a school/trainer?
DD: I started 2022, it was hard to find and it took a while to find a good trainer but then I got in contact with my trainer Marcus shilling and he is now opening swedens first wrestling school. I was a late bloomer in wrestling
WF: Wow, can you tell us more about that?

DD: Well it's Marcus shilling who's the head coach together with the amazing female wrestler Aliss ink. And we are actually moving the wrestling ring on Friday to the new training center and will have are first training and the facility then. The will host seminars and have a collaboration with other wrestling schools in Europe.
WF: You've been training for about 1 year now. Is your debut in sight, do you already have information?
DD: Well all I can tell you is that it's coming up during this year so keep your eyes open for Dakota Duke.
I will soon release a promo with my hillbilly friends the bearded brothers so stay tuned
WF: That sounds fun and promising. When are you putting a country girl there? I know you actually work on a horse farm for a living, right?
DD: Yes I work at a ranch like a real redneck country cowgirl… I drive tractors and move cattle by horseback 💋
Keep a watchful eye open in April is all I can say. Yeah, I would love to go to Scotland, Danmark and of course Germany cause you guys have a great wrestling scene. I'm open to work with anyone who shares the same passion and professionalism for wrestling.
WF: You should definitely experience the fans here! THANK YOU!
DD: Yeah I heard that you have a great crowd over there! Thank You!
Order #WWE2K23: